Our hotel offers four restaurant services to satisfy our clients' needs and choices.

Half boad service - breakfast and dinner served in the indoor dining room "Stella"
An American style buffet breakfast including salty as well as sweet foods and baked goods is served fresh and homemade daily. Breakfast can be enjoyed on our terrace or in the interior dining room.
Dinner starts promptly at 7.30 p.m.

A la carte service at L'Isolano
Enjoy the breathtaking view of the moon rising over the water on the terrace of our L'Isolano Restaurant or the intimate "Saletta Montecristo" for a dinner you will not forget. Our chefs will delight you with our signature dishes of the sicilian tradition and will surprise you with a spark of many new dishes every season.

L'Isolano is open daily for lunch (12:30-14:30) and dinner (19:30-22:30). Call us to make a reservation: +39 0565 987013

Lunch Menu
This season we open with an additional "quick menu" for your lunch. If you do not prefer to sit at the restaurant at lunch, come to our bar.
On our "Quick Menu" you will find things such as Arancine (rice balls), pizza, quiches, salads to take with you back to your lounge chair or to eat right at the bar. (see our menu)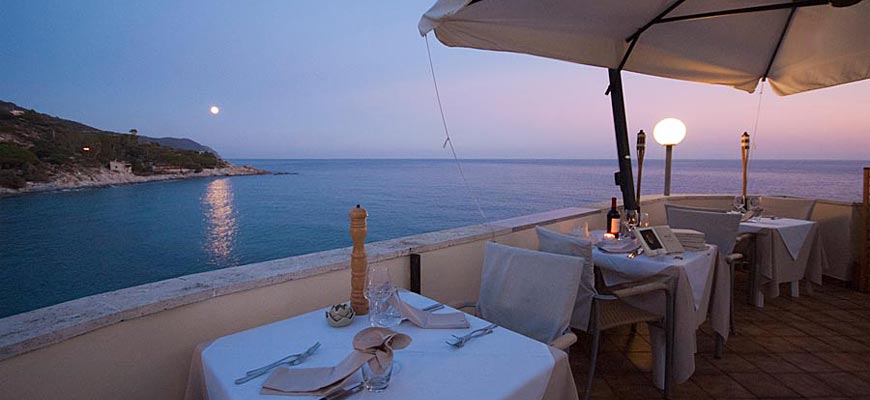 Our Culinary Philosophy
Satisfying our clients' palates while delivering dishes which are wholesome as well as delicious is a goal we strive to achieve daily at La Stella. To this end, our cuisine is based only on fine quality fresh ingredients.
We use only the finest extra virgin organic olive oil for all our cooking, ancient grains for our breads, fine flour and fresh eggs for our home made pastas. All our bakery items are home made daily from scratch.
It takes a lot of hard work and dedication to achieve the authenticity of the dishes we gladly offer to our guests.

Our Menu is dinamic as it is based on seasonal products and our preparation is always fresh to order and never pre-cooked.

Our dishes are complimented by careful selection of excellent Italian wines, partiicularly from Sicily and Elba.

Celiac disease and food allergies
N.B. We serve gluten free meals with gluten-free products and all our care, but we do not have a separate kitchen for the preparation of such foods.